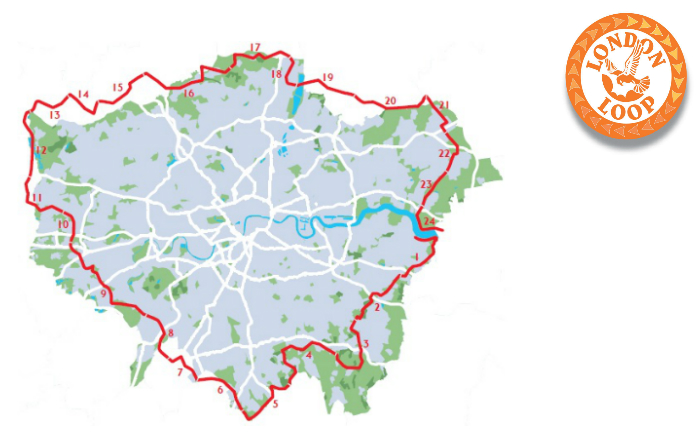 Another sunny day (though perhaps too warm) so time to return to the excitement of the Central Line to Chigwell. There is a good service to Hainault (2 stops to the south), but only three trains an hour onwards, so it wasn't the fastest journey ever!
The first part of the route was retracing my steps through Chigwell: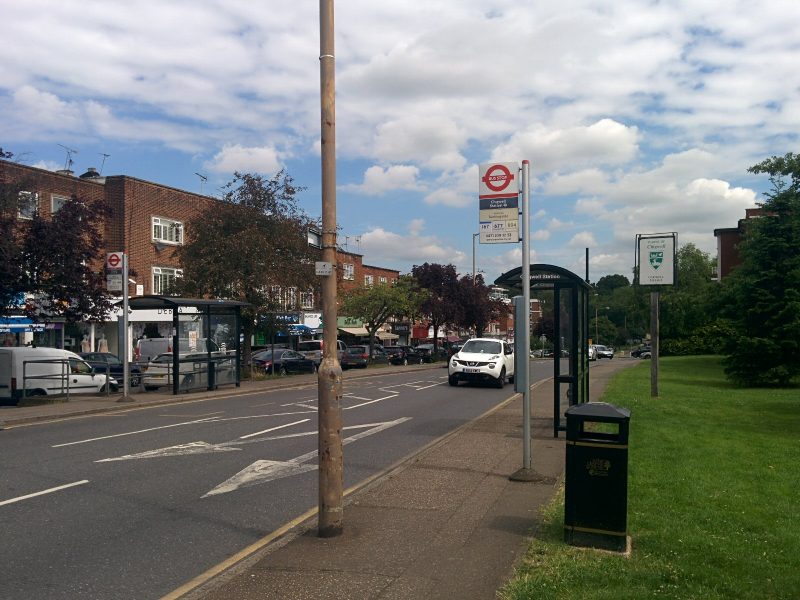 Which has an ancient pub – "Facing St. Mary's church is an ancient timber-framed public house named the Kings Head. Ye Olde Kings Head (now also a restaurant) has the title of being the most famous pub in Essex. Its impressive façade inspired Charles Dickens to include it in his novel Barnaby Rudge. It was also the favoured watering hole of the legendary 18th century highwayman, Dick Turpin, who started his criminal career, it is said, poaching deer from the nearby forests of Hainault and Epping."
Finally, countryside was reached:
Then a stretch over some farmland (it was this point I wondered if shorts were the right choice today!):
Then a pleasant recreation ground at Chigwell Row:
and a nice wood – "Chigwell Row Wood owes its survival to the far-sighted Victorian inhabitants of Chigwell. Concerned that tree clearance in the area would deprive them of a place to walk and exercise, they set up a charity to ensure its survival. It's now managed by the staff and volunteers at Epping Forest Country Care."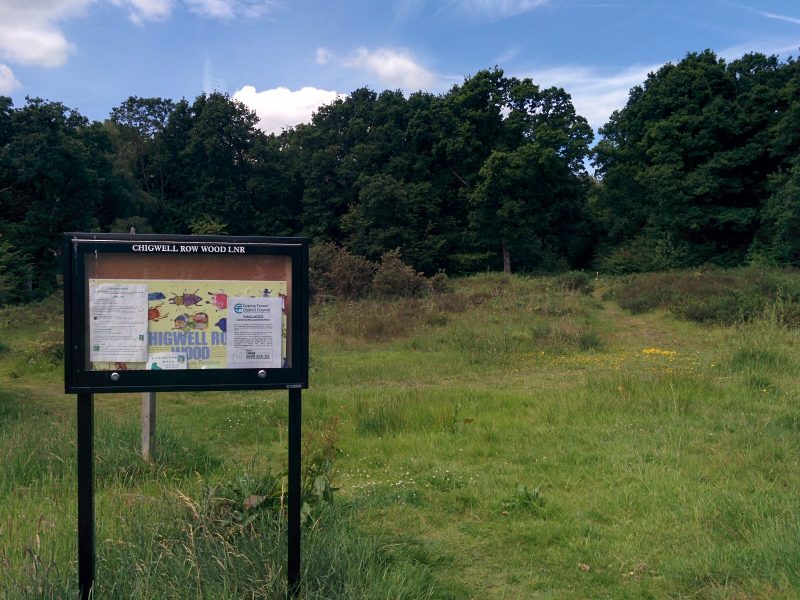 After crossing a main road, the route goes through Hainault Forest Country Park – "In 1130 when much of Essex was woodland, Henry I, son of William the Conqueror, designated this area The Royal Forest of Essex. It was used exclusively for the kingly sport of hunting. Hainault Forest Country Park is a surviving fragment of that vast verdant landscape, as in 1851 Parliament gave its consent to land being drained and fenced, and 100,000 trees were felled. Fortunately, Hainault Forest has now been designated a Site of Special Scientific Interest."
With a nice lake: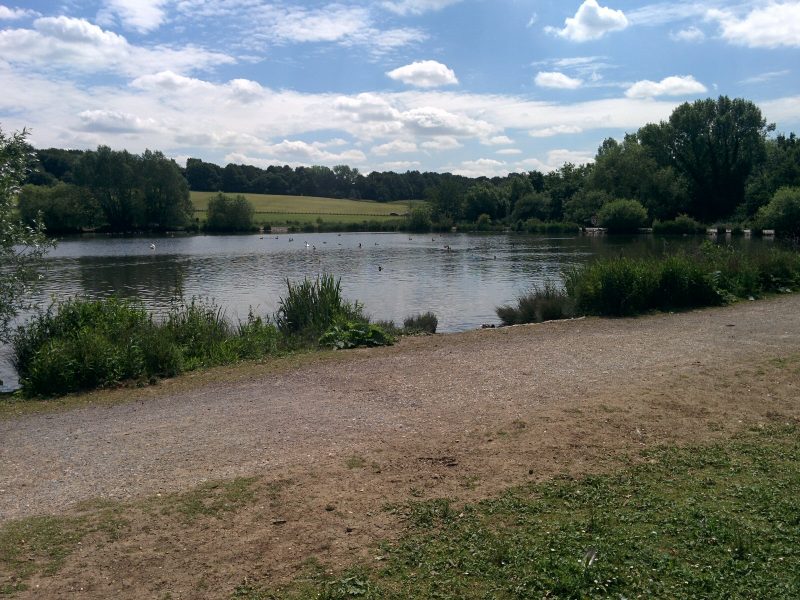 and a large meadow: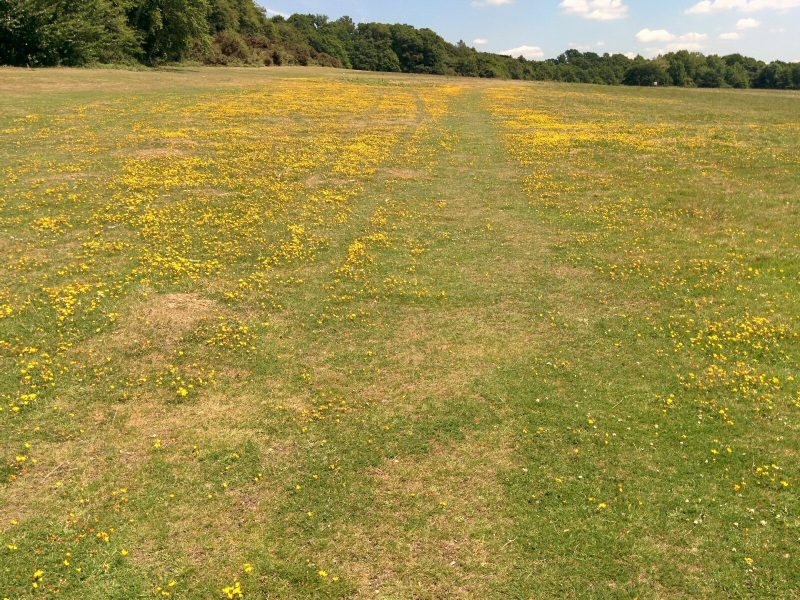 with Docklands and London just visible in the distance:
The inevitable golf course then needed to be crossed "Follow the (invisible) yellow markers. Do not stray from the path. Do not upset our precious golfers with your nasty walking attire" (or something like that!):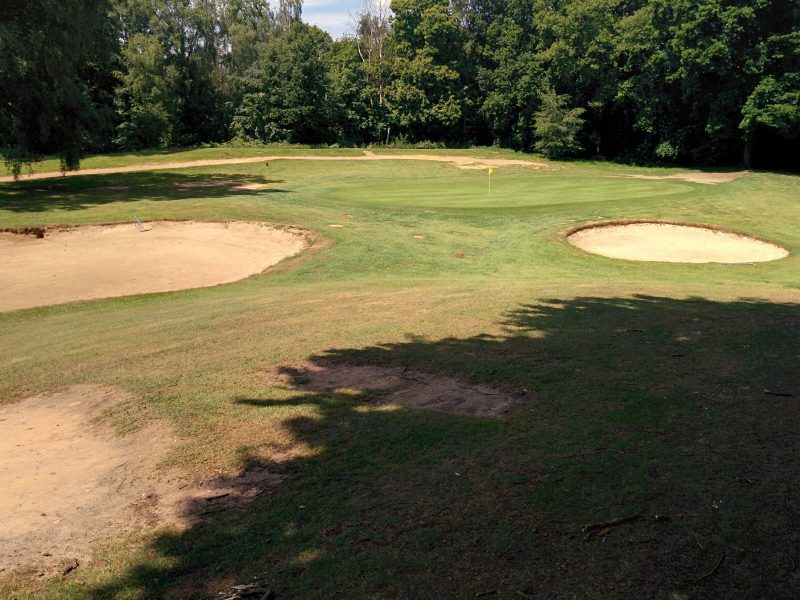 After a narrow winding path through some woods, it was back to open farmland, with some more views of London in the distance: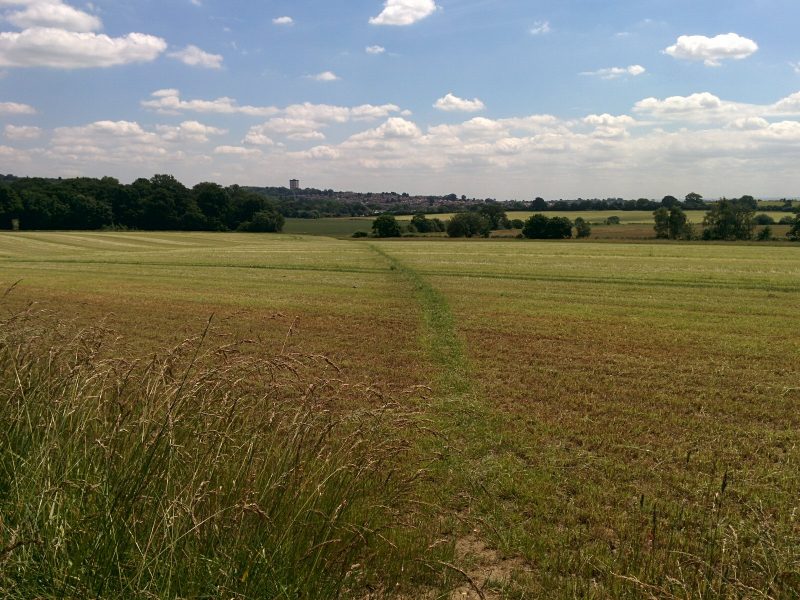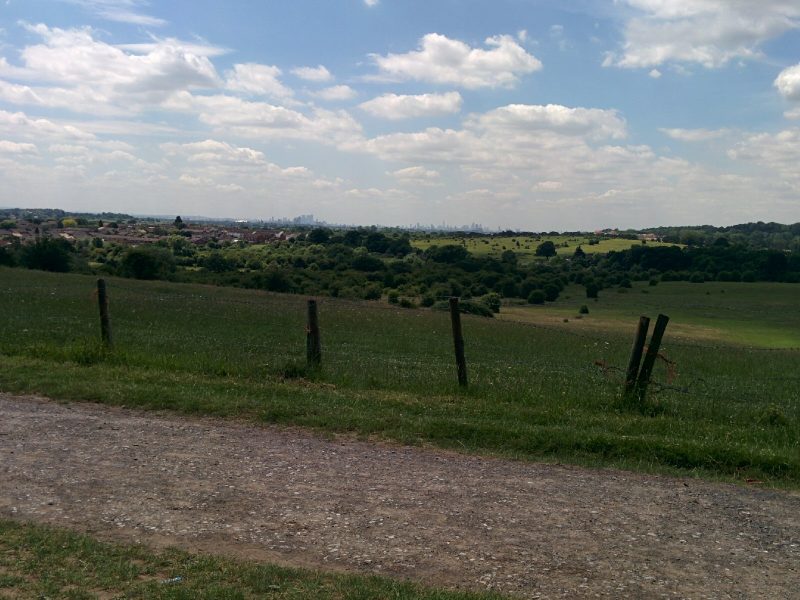 The route then goes through Havering Country Park – "Havering Country Park has a rich and varied landscape with splendid views over the woods and meadows of Essex's countryside. The giant sequoia trees that line both sides of the Avenue were planted in the 19th century. Their towering reddish trunks may look impressive, but these American
immigrants are small compared to those that grow in its native Californian hills which can grow to 300 feet (90 metres) high, have a trunk diameter of 35 feet (10 metres) and live for 3,000 years or more. They are the largest living things on Earth."

and a nice church at Havering-atte-Bower, the end of Section 20: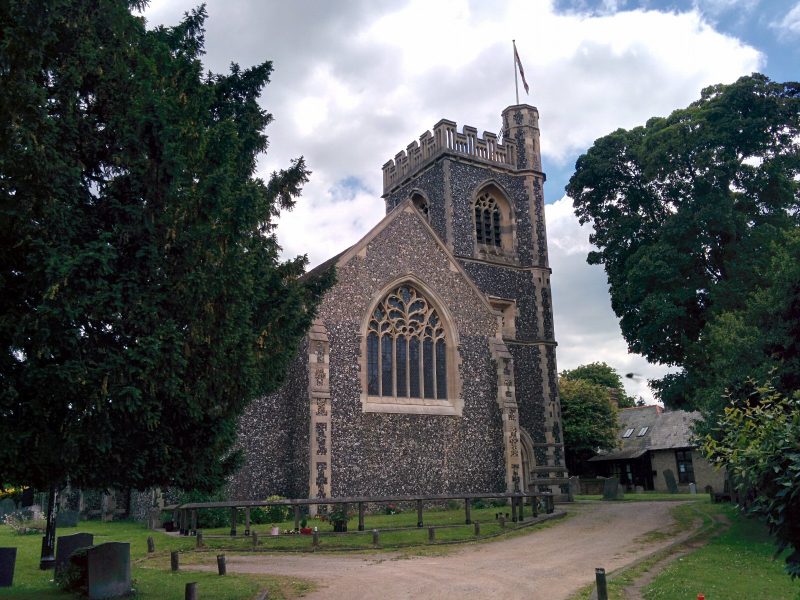 Section 21
Havering-atte-Bower isn't the ideal place to break a London Loop section, only having a bus service to civilisation (well, Romford) every 1½ hours (and none on Sundays). But open country is nearby:
leading to what used to be Pyrgo Park "These days nothing remains of the house save this rusting sentinel defying time. In its heyday Pyrgo House was home and playground for King Henry VIII's daughters Mary and Elizabeth who as children grew up happily together here."
More fields followed – despite looking idyllic, this was actually quite heavy walking on stubble over rutted ground: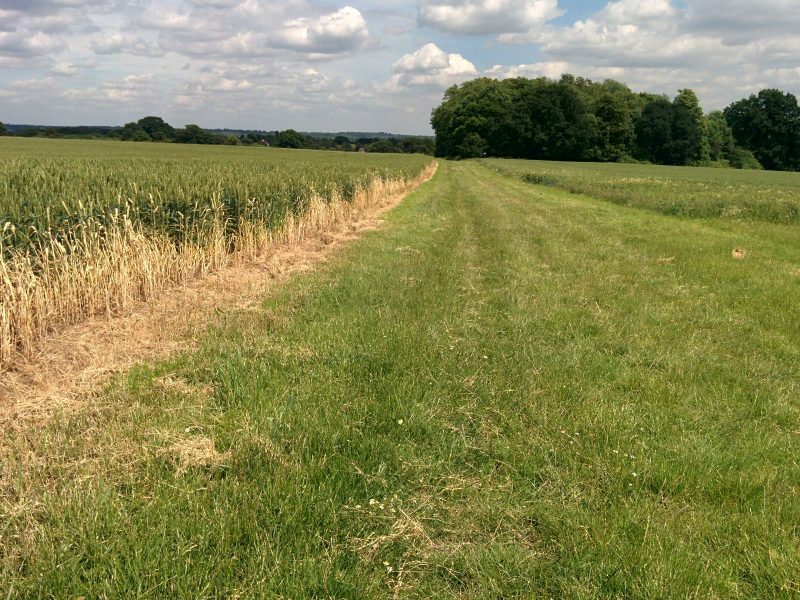 Eventually, nicer paths were reached: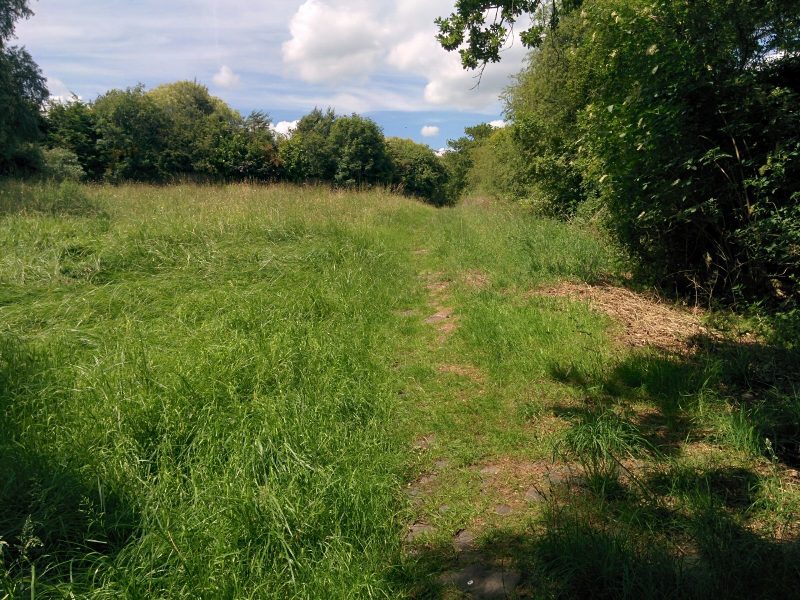 But all too soon, we're back to suburbia at Harold Hill – "Harold Hill and Harold Wood probably derive their names from various connections with King Harold Godwinson
(Harold II), who was defeated by William the Conqueror in 1066 at the Battle of Hastings."
I was looking forward to this section, following Carter's Brook to Harold Wood: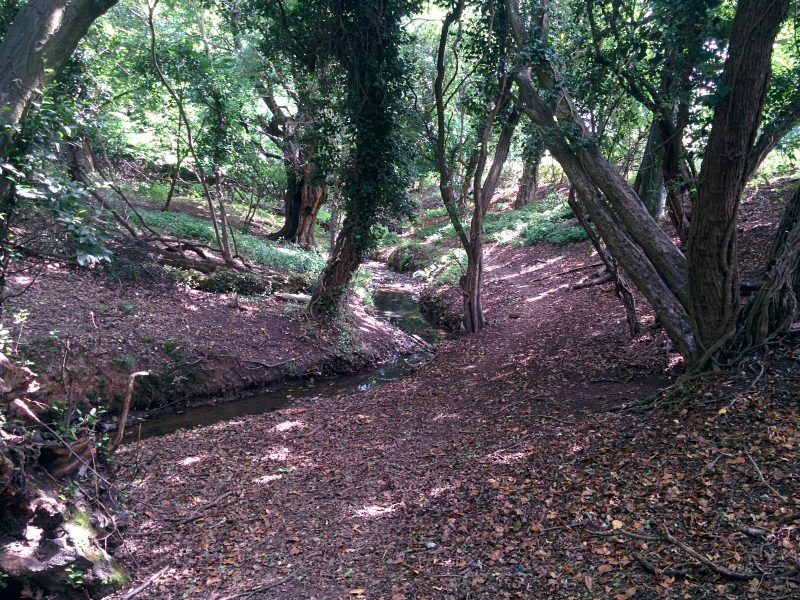 However, it soon became a long tarmac path winding from recreation ground to recreation ground!
and then to the streets of Harold Wood, with the station soon reached:
12 miles of London Loop walking today.
London Loop Walk 22, 23 and 24 – Harold Wood to Purfleet
For more information on the London Loop, see https://en.wikipedia.org/wiki/London_Outer_Orbital_Path and https://tfl.gov.uk/modes/walking/loop-walk