We occasionally go walking in Shoreham Woods, but much of it is quite noisy due to the adjacent M25. However, with lockdown, there is very little traffic and the woods were nice and peaceful:
It's also one of the best places to see bluebells at this time of year:
Rocco of course likes wearing himself out chasing sticks:
And paths that are horrible and slippery during the winter are nice and dry:
We went a slightly different way today, and looking back you can see the phone mast at the top of the hill badly disguised as a tree:
And in close up – whoever designed the fake tree has no idea what a deciduous tree looks like: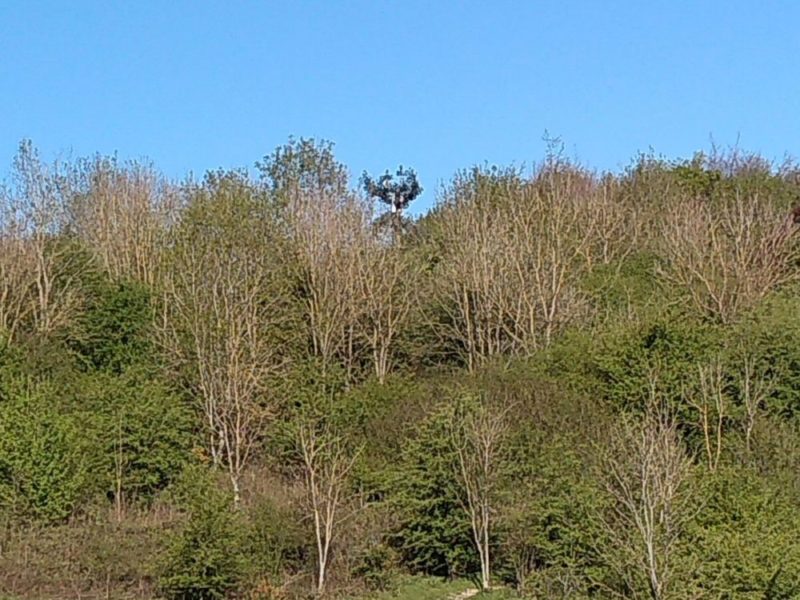 Next is Polhill Bank, where the ground slopes down from the North Downs to the Weald. Rocco does like carrying a pair of sticks as a large X:
The railway line comes out of the tunnel under Polhill here:
and it's a lovely spot to sit and watch the world not go by:
By this time, Rocco is often thirsty, but he remembered a water trough just off the path. The water level was a bit low for him to reach, but he solved the problem in typical Labrador fashion:
Then more nice paths and bluebells on the way back to the car:
A lovely walk in warm sunshine. Worth driving a few miles on empty roads!