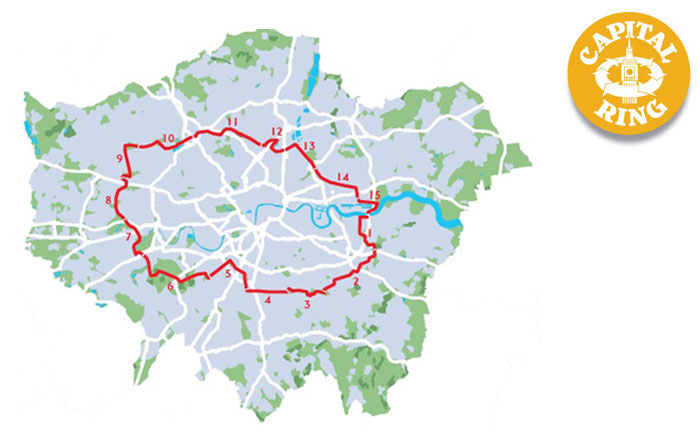 Another nice day, so time for me to continue the Capital Ring Walk.
The journey back to Hanwell was uneventful, but crossing London always takes a bit more time than the journeys I've so far done for the Capital Ring.
It was a short walk through the streets back to Churchfields Recreation Ground:
The walk again follows the River Brent, which is in the trees to the left of this photo:

Lovely walking, and eventually the river is crossed again:

Finally, after crossing a road, we're in the more formal Perivale Park:
But this all comes to an end when the A40 Western Avenue is reached. Luckily there's a footbridge:
then suburban streets into Greenford itself:

This is the end of Section 8.
Section 9
After some busy roads at Greenford, the path goes along the side of the Westway Shopping Centre:

and then rejoins the tranquility of the Grand Union Canal: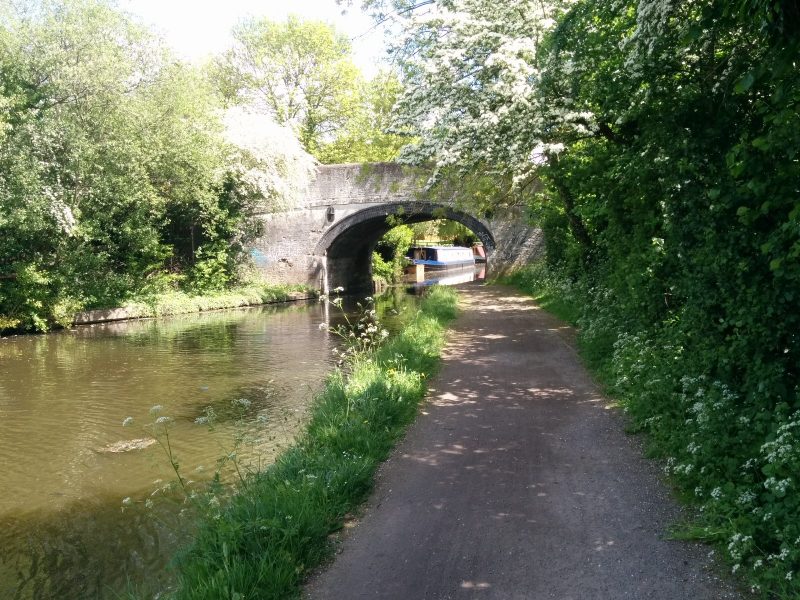 After crossing over the canal, it's countryside again for the climb over Horsenden Hill:
"Horsenden Hill at around 275 feet (84 metres) provides one of the finest natural viewpoints in London and is a popular kite-flying spot. On a clear day, looking west, you can see the Chiltern Hills, while to the north lies Harrow-on-the-Hill with the spire of St. Mary's Church. During World War I, the summit came to the fore with the siting of an anti-aircraft gun pulled by a horse – a defence against German airships. 2,500 years ago, Iron Age people settled on Horsenden Hill leaving behind large amounts of pottery. The Iron Age settlement is now a Scheduled Ancient Monument."
Then it's back to suburbia at Sudbury Hill:

which leads into Harrow itself: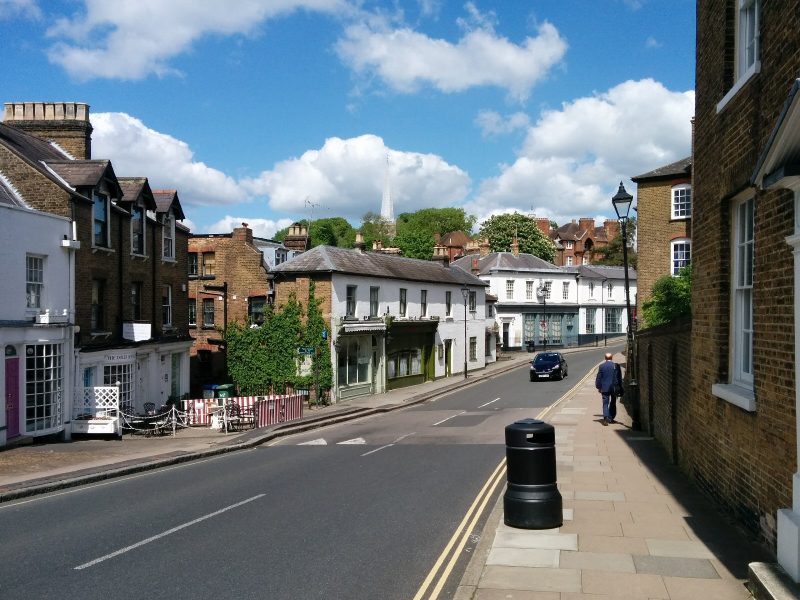 Harrow Village (mostly school buildings) are reached after yet more uphill:

"Over the years, Harrow School has grown to occupy much of the village, with buildings scattered in all directions. On Church Hill is the original school building; a plaque says it was finished in 1619. Harrow School was established in 1572 by John Lyons, a local farmer and landowner. The pupils (all boys) can often be seen scurrying between buildings, wearing their distinctive straw boaters; there are 800 pupils spread around in 11 boarding houses in the village. As one of Britain's foremost public schools, over the years it has educated many leading notables, including Winston Churchill, Pandit Nehru, Lord Byron, Richard Brinsley Sheridan and Anthony Trollope."
It was then a walk back down the hill to Harrow-on-the-Hill Station:

Then two tube journeys and a fast train to home to Orpington.
6.5 miles of excellent (though hilly) Capital Ring walking today and 1 Geocache found.
For more information on the Capital Ring, see https://tfl.gov.uk/modes/walking/capital-ring